Archiv für 25. Oktober 2012

Marc "Notch" Persson führt parallel zur Entwicklung seiner Weltraum-Simulation 0x10c ein Video-Tagebuch. Jüngst hat er so die Basis-Funktionalität veröffentlicht, wie Multiplayer am Ende ausschauen könnte. Genauer: Eigentlich sind es nur zwei Spieler, die sich gegenseitig über den Haufen schießen.
Anyway, das ist auch nur einer der vielen Tests, die er immer mal wieder gerne teilt. Aber sieht jetzt schon nach was aus.
Angekündigt im April, befindet sich das Spiel derzeit im Pre-Alpha-Stadium.

B.a.d.a.s.s.: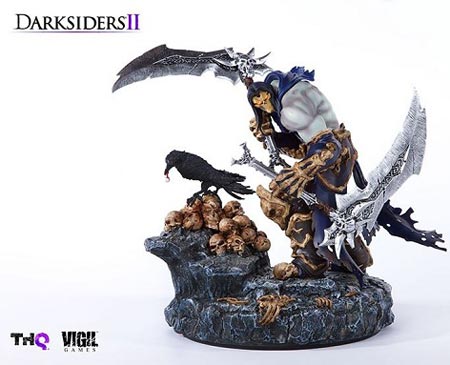 Was wir hier sehen ist das Werk von Virgil-Creative-Director Joe Madureir. Das Vieh ist 81cm(!) groß, vollfarbig bemalt und hat krasse LED-Augen.
Natürlich gibt es bei so einem Teil auch eine Legende, die wir hier 1:1 wiedergeben:
Like his fellow Horsemen, Death is of a race known as Nephilim – among the most powerful beings in the Universe. When Mankind was given the prize of Eden, Absalom – leader of the Nephilim – led his armies against Heaven and Hell in an attempt to steal it back. For this crime, the Charred Council condemned the Nephilim to destruction. The Four Horsemen of the Apocalypse were granted a reprieve from this fate on the condition they aid the Council's victory over their kin. The Horsemen accepted, but it was Death who bore the greatest burden of guilt for the near extinction of his race. Donning his iconic mask to represent his role as executioner on the day he slaughtered his brethren, he has not removed it since.
Zu haben ab März. Der Wert soll bei 600$ liegen, das sind 463 harte Euronen. Fear not: Wer direkt bei Triforce vorbestellt, der bekommt die Statue schon für 150$/115€. Das ist fast ein Mega-Deal…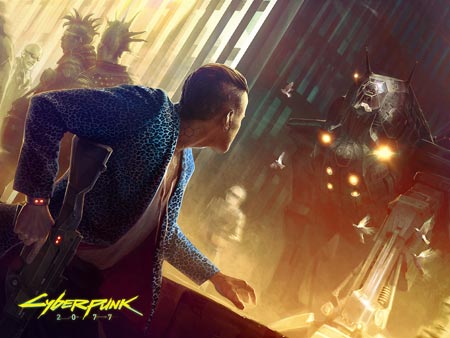 Die Macher von "The Witcher", das polnische Entwicklerstudio CD Projekt Red, arbeiten fleißig an einem sehr fetten Cyberpunk-Game. Titel: "Cyberpunk 2077".
Inspiration holt man sich hier aus der realen Welt: Zum einen ist es eine Umsetzung des Pen&Paper-Rollenspiels mit ähnlichem Titel, "Cyberpunk 2020". In DE war das 1992 erhältlich. Das wiederum basiert auf Gibsons Kult-Roman Neuromancer.
Man hat also einiges im Gepäck, ziemlich gute und ausführliche Referenzen, um daraus ein Klasse-Spiel zu zaubern.
Seit wenigen Tagen ist nun auch die offizielle Website online. Dort findet man allerlei Swag, ein Blog und natürlich das übliche Social-Media-Gedöns. Hier die Adresse:
Die Gesellschaft in dem Game ist ziemlich degeneriert. Was man von der Technik allerdings nicht behaupten kann. Eure Charakter-Anpassungen werden eng mit dem Plot verknüpft sein. Und auch die Story verläuft nicht-linear.
Alles derbe Zutaten, ich persönlich traue CD Projekt das Größte zu. Allerdings war ich nie ein Fan von "The Witcher", weiß aber, dass der Titel ungeheuer gut bei den Spielern ankam und es deshalb meinen Respekt verdient.
Mit dem Release-Termin hapert es etwas. Auch die Systeme sind unklar. Die Gerüchteküche scheint von 2014/2015 auszugehen, wir aber hoffen, dass es so lange nicht mehr dauert.