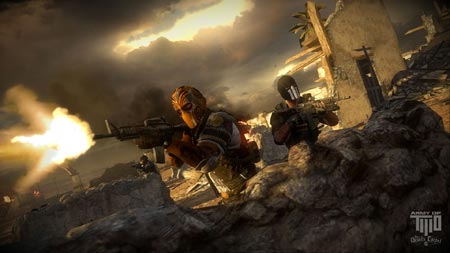 Visceral entwickelt auf der Basis der Frostbite 2-Engine den 3rd-Person-Shooter "Army of Two: The Devil's Cartel". Das wird der direkte Nachfolger zu "The 40th Day" aus 2010.
Die zwei neuen Badass-Motherf***** heißen diesmal Alpha und Bravo. Den Auftakt wird man in Mexiko spielen können, inmitten eines Drogenkampfes voller Korruption und Betrug.
Ihr werdet auf ziemlich tiefgreifende Charakter-Anpassungen zurückgreifen können, damit ihr im Online-, sowie im Split-Screen-Koop-Modus bestehen könnt. Da sind die Masken nur der Anfang.
Die ersten Grafiken dazu sind eingetroffen, das sieht nach einem ziemlichen Psycho-Game aus:
9 screens, "Army of Two: The Devil's Cartel", via allgamesbeta.com.
Bedient werden 360– und PS3-Systeme. In Europa erscheint der Shooter am 29. März.
---
.: Social Bookmarks :.