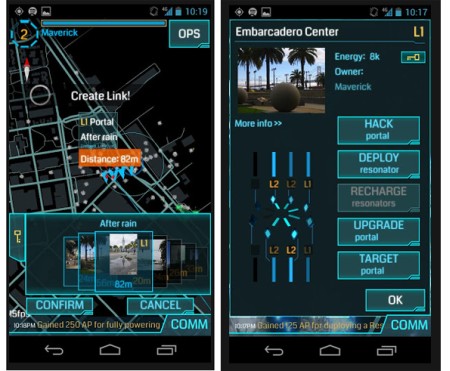 Kein April-Scherz: Google arbeitet tatsächlich an einem eigenen Videospiel. Das "Ingress" getaufte Projekt wird, wie könnte es anders sein, mit einem Android-Handy gezockt.
Es zählt zum Bereich Augmented Reality, ihr müsst in der Realität mit eurer Handykamera echte Objekte untersuchen und bekommt dafür Punkte. Das Interface sieht dabei alles andere als einfach aus und wurde oben eingebunden.
Ihr müsst dabei ein Team wählen: Die "Erleuchteten" oder die "Resistance". Gespielt werden kann von überall auf der Welt, wobei es in urbanen Gegenden schwieriger sein wird, weil mehr Menschen auf die selben Ressourcen zurückgreifen können.
8 screens, "Ingress", via ign.com.
Das Spiel läuft derzeit in der geschlossenen Beta. Man kann sich einladen lassen, wenn man Spieler kennt. Oder seine Email-Adresse angeben, wenn man Zugang haben will: http://ingress.com/.
Google backt keine kleinen Brötchen:
"The concept is something like World of Warcraft, where everyone in the world is playing the same game."
Mkay…
---
.: Social Bookmarks :.