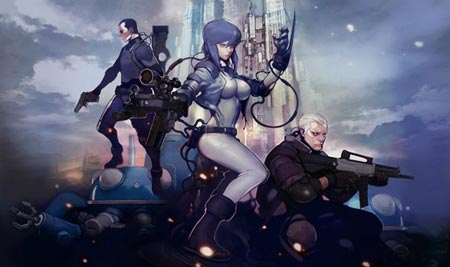 "Ghost in the Shell" ist derzeit webweit ein Thema, da in einer neuen vierteiligen Serie die Vorgeschichte von Motoko Kusanagi erzählt wird.
Dazu wird es auch ein Spiel geben mit dem Titel "Ghost in the Shell Online".
Im Kern ist es ein FPS mit dem Hauptfokus auf Hacking. Man wird zum einen seinen Cyber-Körper aufmotzen können, zudem nutzt man die kultigen Tachikoma-Panzer in Kämpfen. Ihr werdet sozusagen ein vollwertiges Mitglied der legendären Sektion 9.
Screens dazu gibt es noch nicht, doch es wurde feines Artwork veröffentlicht:
3 mal Artwork, "Ghost in the Shell Online", via siliconera.com.
Nexon plant einen weltweiten Release. Perfekt!
Das Game ist allerdings erst für das erste Halbjahr 2014 angesetzt.
---
.: Social Bookmarks :.