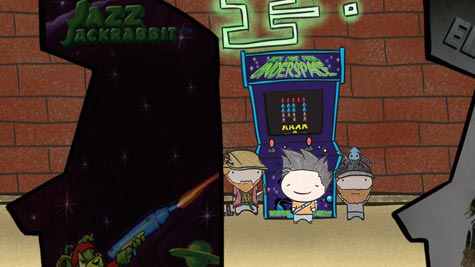 Robert Bowling war in einem früheren Leben einmal Stratege im Team von "Call of Duty", heute leitet er mit Roboteki seine eigene kleine Firma.
Mit "The Adventures of Dash" hat man ein sympathisches 2D-Side-Scroller-Spiel geschaffen. Oder reden wir lieber von wollen, es ist nämlich noch ein Kickstarter-Projekt.
Die Hauptrolle übernimmt hier ein 9-jähriger Narkoleptiker namens Dash. Der schläft irgendwo ein, träumt vor sich hin und erschafft sich so eigene Level voller Items, Rätsel und Feinden.
Es gibt bereits Grafiken dazu, siehe:
20 screens, "The Adventures of Dash", via gematsu.com.
Das Spiel soll ab November für die Android-Konsole Ouya erhältlich sein, außerdem für PC, Linux und Mac. Versionen für Smartphones sollen folgen. Wenn die krassen 400.000$ überschritten sein sollten am Ende, wird es auch Versionen für Konsolen geben.
---
.: Social Bookmarks :.