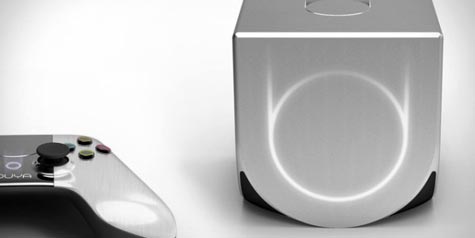 Die Ouya kommt, die Ouya kommt. Diesen Monat gehen die ersten Geräte raus. An Zocker und zockende Entwickler. Yes!
Zum Start liefern wir mal die komplette erhältliche Spieleliste zum Nachlesen, alphabetisch sortiert:
Abbigale And The Monster
A Fist of Awesome
Airstrike
AmpGear
Around the Rock Disc Golf
A Space Shooter For 2 Bucks
Barley-Break
Beast Boxing Turbo
Blood
Bubblr
Bunibon 2
Canabalt
Chomper Deluxe
Combat Demonstration
Command Crisis: Callsign
ConSoul – x86 PC Emulation
Deep Dungeouns of Doom
Donut Get!
Dubwars
EMUya – NES Emulation
Escape
Escape F2P
EVAC
Farm Invasion
Final Fantasy III
Fist of Fury
Flying Car
Forsaken Planet
Gamius Type IV
Giana Sisters
God Of Blades
Grow
Guns N Glory WW2
Gunslugs
Happy Vikings
Hexicheckers
Highway Rally
Ice Rage
iMech Online
Jelly Bounce
Jsidd Code Factory
King of Booze
King of the Hill
Kinito Ninja
Knightmare Tower
Lemming Rampage 2
Lord of Portals
Maze City
Monocle Man
Mosaic
Multi Space
Mupen64Plus – N64 Emulation
Natural Soccer
One Tap Hero
Orbiter
Organ Trail
Paper Wings
Phoenix Revival
Pinball Arcade
Pingo: Puzzle Poker
Pixel Pig Deluxe
Pix n Love Rush
Polarity
Powerups That Kill
Proton Pulse
Puddle
Puzzle 2
Quizania
Radiant
Rage Runner
RED
Regular Ordinary Boy
Riding Rhodri
Saturday Morning RPG
Save the Puppies
Shuttle Rush
Skymaze 3D
Sophia's World
Space Buggers
Space Repair Inc
Space Sokoban
Space Tech Quality Assurance
Spin Wars
Square Off
Stalagflight
Star Shipping
Striker Soccer Euro 2012
Stupid Zombies 2
Subatomic Kangaroo World Tour
Super Daddio 2
SuperGNES – SNES Emulation
Swindler
Syder Arcade
The Amazing Frog
The Ball
The Little Crane that Could
The Secret Universe of Alpha
The Vestibule
Tower Master
Twitch.tv
Vector
Wizorb
Word Shaker
Zombies & Trains
[via]
Man wird ALLE Spiele gleich zum Start kostenlos testen können. Man kauft hier also weniger den Sack, als eine richtige Katze.
Der Preis für die Konsole inklusive einem Controller liegt bei 99$/76€ (ohne Versand). Ein weiterer Controller kann für 49$/38€ dazugekauft werden.
Das Gerät (wird nie müde) und akzeptiert bis zu 4 Controller, die via Bluetooth eingebunden werden. Außerdem wird es konstant einem Update-Vorgang unterzogen, der zukünftig im Hintergrund ablaufen wird.
So, dann mal los! Lehren wir den etablierten Firmen das Fürchten! Har, har.