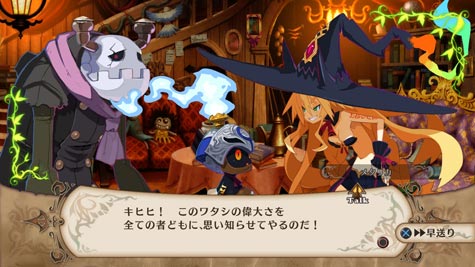 "The Witch and The Hundred Knights" gehört zu den sympathischsten Spielen in diesem Jahr, dazu trägt hauptsächlich das Artwork bei und die obskuren, aber sehr liebenswürdigen Charaktere.
Nippon Ichi macht vornehmlich Games für den japanischen Markt, doch bereits jetzt steht fest, dass dieses Action-Rollenspiel zumindest mal eine englischsprachige NTSC-Version nach sich ziehen wird. Sehr gut!
Die Screens halten definitiv was sie versprechen, bei dem Titel kann man sich schon was vorstellen, da fehlt nicht mehr viel:
49 screens, "The Witch and The Hundred Knights", via gematsu.com.
Die Haupt-Hexe trägt den populären Namen Metallica.
Zur Story:
"Deep within the forest, there live two witches: the beautiful marsh witch and the ugly forest witch. The two are engaged in a deadly war for supremacy. One day, the beautiful marsh witch encounters the legendary "hundred knights", whom she then used magic to summon into battle, in hope of gaining the upper hand against her rival."
Es ist spät dran, ein Release war für Juni 2012 gedacht. Japan darf am 25. Juli zocken, NTSC ist TBA.

Wohl einer der bisher schönsten Stills in diesem Jahr: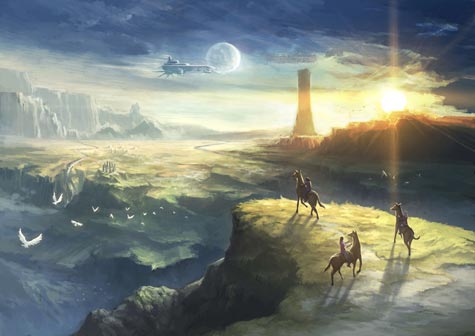 Als Figuren werden Gaius Worzel und Claire vorgestellt, außerdem gibt es neue Impressionen von verschiedenen Regionen, die erkundet werden können:
15 screens, "Sen no Kiseki", via gematsu.com.
Englischer Titel hierfür ist übrigens "Trails in the Flash".
Alles andere, wie gehabt: Bisher immer noch keine Ankündigungen für westliche Sprachräume.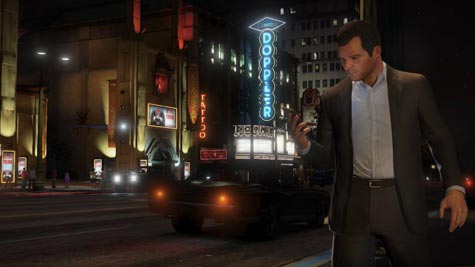 Der Triple-Trailer-Burger vor kurzem war nicht das Einzige, was Rockstar jüngst zum neuen "Grand Theft Auto V" rausgelassen hat.
Im Zuge dieser Kampagne gab es handfeste Screenies zu bestaunen, die ihr euch beizeiten mal ansehen solltet:
20 screens, "Grand Theft Auto V", via gamekyo.com.
Verrückt irgendwie: Nach so vielen Folgen (15!) meint mann eigentlich, frau hat alles gesehen, aber denkste. Echt gut.
Wenn sich die Amokläufer bitte bis Ende September zurückhalten könnten, danke, ich will nämlich dieses Spiel spielen.