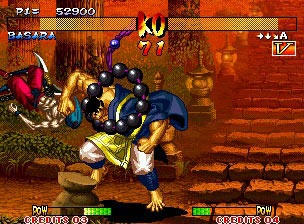 Besitzer der Neo Geo X bekommen ab Ende Juni die volle Packung Klassiker: Neben "Sengoku" und "Metal Slug 2" gibt es in Volume I noch "Top Hunter: Roddy and Cathy".
Hier der Inhalt der weiteren vier Ausgaben:
Vol. II: Samurai Shodown 3, Savage Reign, Super Sidekicks 3

Vol. III: King of Fighters '96, Blazing Star, Kizuna Encounter

Vol. IV: Garou: Mark of the Wolves, Shock Troopers, World Heroes 2 Jet

Vol. V: The Last Blade, Blue's Journey, Art of Fighting 3
Die 1GHz starke Konsole bringt Linux mit und ist seit Ende Dezember offiziell in den USA erhältlich. Über das Internet kommt man trotzdem ohne weitere Probleme an das Teil, für die Gold-Version (siehe Archiv) werden jedoch 240€ fällig.
Diese Klassiker-Sammlung wird am Ende auch als Gesamtpaket zu haben sein und kostet dann 80$/63€.
---
.: Social Bookmarks :.