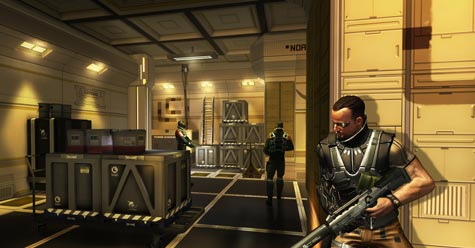 Großartig! Es erscheint ein brandneues "Deus Ex: The Fall". Weniger toll: Diese Version, immerhin die vierte der Hauptserie, soll es nur für iOS und Android geben.
Hier die ersten Grafiken:
4 screens, "Deus Ex: The Fall", via gametactics.com.
Spielen wird es 2027 und es kommt ein völlig neuer Charakter: Ben Saxon. Ex-Militär, natürlich augmentiert.
"Human Revolution" gehört für mich zu den besten und großartigsten Games der siebten Konsolengeneration überhaupt. Ein Spiel für diese Plattform wäre mir mehr als reingelaufen. Ob ein Tablet oder Smartphone das auch nur ansatzweise so komplex umsetzen kann sei dahingestellt. Aber es ist immerhin eine neues der Reihe, warten wir es einfach mal ab.
Erscheint im Sommer für iOS, das Datum für Android ist noch nicht bekannt. Preis soll bei nur 6€ liegen.
---
.: Social Bookmarks :.