Frisch eingeflogen von der Comic Con (San Diego):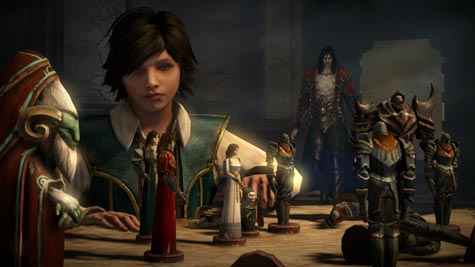 Dabei wird "Lords of Shadow 2" das letzte Castlevania-Game von Mercury Steam sein. Grund: Man will nicht als "Castlevania-Studio" in die Geschichte eingehen. Man hat dort Größeres vor…
Hoffen wir, dass sie sich ein letztes Mal so richtig reinhängen:
11 screens, "Castlevania Lords of Shadow 2", via gematsu.com.
Das wird darin alles ein wenig Overkill: Dracula geht es erst weniger gut und so. Und Satan sucht seine Chance zur Revanche. Doch da ist dann noch der Tod persönlich, mit dem Dracula einen Pakt eingehen muss.
Weirdo, hat aber Potenzial.
Der Release soll noch diesen Winter kommen. Es hätte dann drei volle Jahre für die Fortsetzung gedauert. Alles Gute, Mercury Steam!
---
.: Social Bookmarks :.