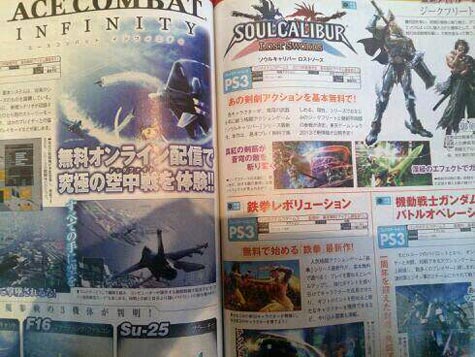 Mit "Soul Calibur: Lost Swords" versucht es Bandai Namco erneut mit der "Free to Play"-Schiene. Da hat man sich das Konzept von "Tekken Revolution" geholt.
Auch hier gibt es wenige Fakten derzeit, doch die Famitsu hat uns den ersten Scan:
Scan: "Soul Calibur: Lost Swords", via sadpanda.us.
Unserer Meinung nach ist "Free to Play" mehr Fluch als Segen: Zum einen kann man nicht so lange zocken, wie man will. Hier wird man von "farbigen Münzen" abhängig sein, die sich im Laufe der Zeit von selbst regenerieren. Und es braucht am Ende sich niemand wundern, wenn man diese Münzen, genauso wie Kostüme, Waffen, etc., für hartes Geld wird kaufen und sich so künstlich wird pushen können. Der Begriff ist also zur selben Zeit sehr irreführend (sprich: Verarsche).
Ein Datum gibt es hier noch nicht, erst vor wenigen Monaten wurde der Titel als Marke angemeldet.
---
.: Social Bookmarks :.