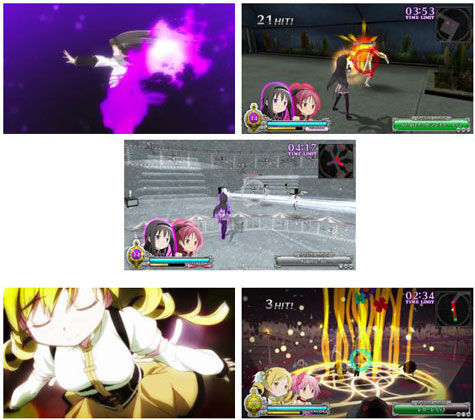 Mit "Puella Magi Madoka Magica: The Battle Pentagram" (魔法少女まどかマギカThe Battle Pentagram) bringt Artdink die übernatürliche Dark-Fantasy-Anime-Serie auf die Vitas dieser Welt.
Man verlässt hier vertraute Pfade und macht ein reines Action-Game. Trotzdem sieht das alles, zu einem gewissen Teil wenigstens, sehr niedlich aus:
28 screens, 8 mal Charakter-Artwork, "Madoka Magica: The Battle Pentagram", via allgamesbeta.com.
Technisch und auch grafisch neuester Stand, wird man nicht meckern können.
Zumindest in den Staaten wird der Manga von Yen Press vertrieben und das schon seit zwei Jahren. In UK und Australien wird auch der Anime gezeigt. Ergo: Informationen zu den Spielen sind Mangelware, aber zumindest an einen NTSC-Port wird man wohl rankommen können.
Release ist hier Ende diesen Jahres. Schulmädchen-Fetisch, anyone!?
---
.: Social Bookmarks :.