Hornochsen, die Wasserzeichen auf Bilder pappen, die ihnen nicht gehören, sollte man verbieten: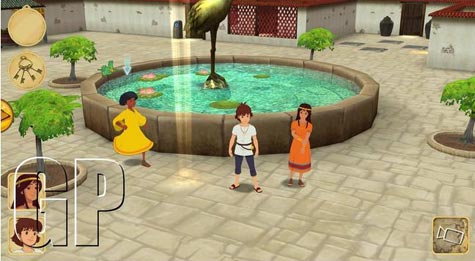 Das ist mehr als schlechter Stil. Zumal die von imgur gehostet werden, also am Ende sind da zwei Wasserzeichen drin.
Was soll's, ist derzeit mit das Einzige, was wir zu "The Mysterious Cities of Gold: Secret Paths" kriegen können:
7 screens, "The Mysterious Cities of Gold: Secret Paths", via gonintendo.com.
Basiert auf einem Anime und der Hintergrund ist ganz interessant: Wurde von den japanisch-französischen Studios DIC Entertainment und Studio Pierrot produziert. Kam wöchentlich, insgesamt 39 Mal. Viel interessanter: War 1982/1983.
Man folgt hier dem spanischen Jugendlichen Esteban im Jahr 1532 auf der Suche nach seinem Vater in der neuen Welt.
Neko Entertainment bringt nun das Game für 3DS und Wii U, aber vorerst exklusiv auf französisch. Für die englische Lokalisierung sammelt man wohl noch Geld über Kickstarter.
Erscheint noch in diesem Monat. Übrigens wird man alle drei Figuren steuern können.
---
.: Social Bookmarks :.