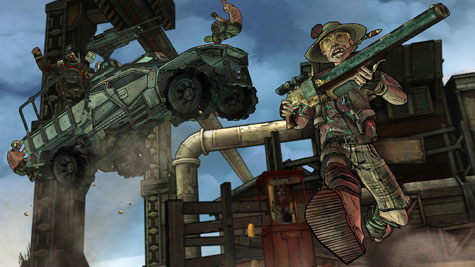 Zurück zu Adventure-Wurzeln und Neues von einer Ca$h-Kuh: Mit "Tales from the Borderlands" startet Telltale bzw. Gearbox ab Mitte des Jahres eine neue Point'N'Click-Serie.
Wie auch bei "The Walking Dead" oder ähnlichen Vertretern werden eure Entscheidungen Einfluss auf zukünftige Ausgänge anderer Episoden haben. Shooter-Elemente kommen nur untergeordnet darin vor, macht ja aber auch seinen Reiz speziell bei dieser Anarcho-Serie aus.
Die allerersten Grafiken sind nun öffentlich, bitte hier entlang:
5 screens, "Tales from the Borderlands", via gematsu.com.
Wer "Borderlands 2" durch hat, der sollte definitiv ebenfalls einen Blick riskieren, denn die Geschichte wird hier drin konsequent weitererzählt.
Plattformen stehen noch nicht fest, können aber aus dem Vorgänger locker antizipiert werden.
---
.: Social Bookmarks :.