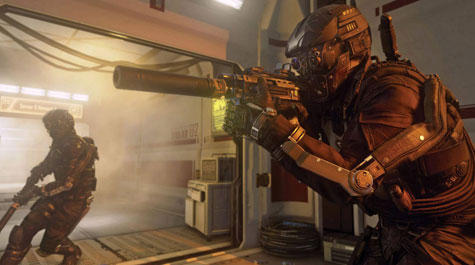 Wir sind uns sicher, es gibt da draußen immer noch Leute, die "CoD" noch nicht genug gesuchtet haben und für die ist "Call of Duty: Advanced Warfare".
Insgesamt nun schon das elfte der Serie und das erste überhaupt entwickelt von Sledgehammer Games. Es spielt 2054 in einer Welt, die auch mir gefallen würde als Setting, weil sie sehr nah an der Realität heute ist: Die größte Militärmacht der Welt ist kein Land, sondern eine Firma. Bääm!
Hier die ersten Grafiken dazu:
10 screens, "Call of Duty: Advanced Warfare", via gamekyo.com.
Es gibt aber noch einen anderen Aspekt, der mir imponiert: Die konnten Kevin Spacey als Sprecher für Jonathan Irons an Bord holen. Irons ist der Mann, für den ihr als Private Mitchell die Aufträge ausführt und der in den Krieg mit den USA zieht(!). Das klingt psycho, aber ganz ehrlich: Für solche Stories bin ich am Leben.
November 4 solltet ihr euch vormerken. Wird sogar ein "CoD" für mich und das heißt schon was, ne.
P.S.: Wenn ihr mal den Film schauen wollt, der das Hollywood-Game für mich destroyed hat, dann schaut "Die üblichen Verdächtigen". Wobei dieses verquere und kaputte "House of Cards" natürlich auch ein Gamechanger für mich war, was US-Serien betraf.
---
.: Social Bookmarks :.