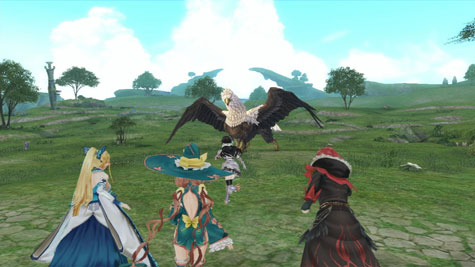 Sega hat die erste große Runde Grafiken zu "Shining Resonance" veröffentlicht. Diese JRPG-Serie gibt es seit 1991. Leider wird dieses Spiel aber nur für die PS3 erscheinen, wir gehen daher derzeit nicht davon aus, dass es a) gute Bewertungen bekommen wird und b) zu uns kommt.
Soll uns momentan nicht kümmern, schaut selbst, ob es euer Fall wäre:
40 screens, "Shining Resonance", via gematsu.com.
Ist auch viel Artwork dabei.
Für Import-Füchse ist der 11. Dezember interessant: Dann wird das Rollenspiel auf dem japanischen Markt zu haben sein.

Crytek und Deep Silver arbeiten zusammen an dem Titel "Homefront: The Revolution", das euch einen "bestechenden Shooter" in einer frei begehbaren Welt liefern soll.
Die Story ist komplett an den Haaren herbeigezogen: Nordkorea okkupiert da die USA und interveniert mit brutaler Aggression in dem Riesenland. Man darf sich nicht fragen, wie das gehen soll, aber das Setting in Philadelphia ist dahingehend interessant, da es eine totalitär überwachte Stadt ist mit Drohnen, bewaffneten Soldaten und dem ganzen Gedöns, wo es sich eben lohnen wird mal schnell hart durch die Gegend zu ballern.
Und so soll das dann aussehen:
6 screens, "Homefront: The Revolution", via allgamesbeta.com.
Kommt erst 2015 und dann für so ziemlich jedes aktuelle System. Willkommen in einer Zeit, in der es so etwas wie "Bioshock" nicht mehr geben darf! Wir hoffen die Zocker-Welt ist zufrieden mit diesem Ergebnis…