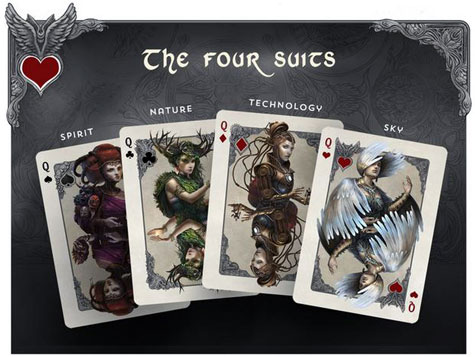 Ungewöhnlich für uns vielleicht, ja. Aber wir sollen verdammt sein, verdammt, wenn wir über das Kartenspiel(!) "Kingdoms of the New World" nicht berichten würden:
"Kingdoms of the New World", via kickstarter.com.
Das ist schon eine Weile, dass dies gepledgt wurde. Doch der Style erinnert stark an "Magic: The Gathering", insofern, ein größeres Kompliment kann man einem solchen Projekt wohl kaum machen.
Fantasy, Cyberpunk, Steampunk, High-Technology; die Themen sind vielfältig, auch wenn man ein paar Abgründe von Giger kennt findet man sich hervorragend hier zurecht.
Fast zu schade zum Spielen. Sollte jemand den Link finden, wo man es erstehen kann, bitte bei uns melden! Thx!
---
.: Social Bookmarks :.