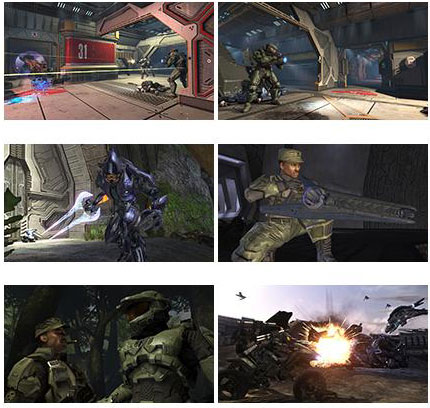 Dutzende Karten in einem einzigen Spiel, Wechseln von HD-Grafik zu wie alles anfing, alle Add-Ons, die es gibt; das sind nur drei Features der kommenden "Halo: The Master Chief Collection". Und wer eine Xbox One sein eigen nennt, der wird um diesen Titel nicht herumkommen. Das eigentlich Heimat-Medium für Shooter-Fans aber, der PC, wird erst einmal nicht bedient.
Wir fanden haufenweise Grafiken dazu, bitte hier entlang:
27 screens, "Halo: The Master Chief Collection", via allgamesbeta.com.
Wem das immer noch nicht reichen sollte, der darf auch gerne mit dem Zugang hier bei der Multiplayer-Beta zu "Halo 5: Guardians" mitmischen.
Hier waren gleich mehrere Firmen an der Umsetzung beteiligt: 343 für das Online-Netzwerk und die Interfaces. Certain Affinity für den Mehrspieler-Modus und Sabre für die neue Kampagne zu "Halo 2". Die Zwischensequenzen aus Letzterem übernahm Blur. Und Ruffian war für Halo 3 und Halo 4 bzw. deren Portierung zuständig.
In den USA zu haben ab dem 11. November, in UK am 14ten. Laut 343 über Download. Wann der Rest Europas an der Reihe ist, ist noch ungeklärt.
---
.: Social Bookmarks :.