Archiv für 26. November 2014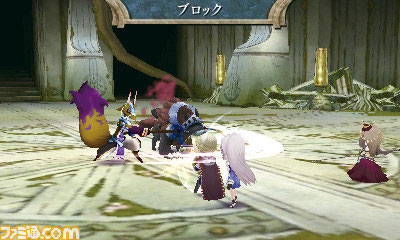 Scans hatten wir bereits hier, ebenfalls einen Trailer.
Na dann machen wir doch heute einen kurzen Grafiken-Beitrag zum sympathischen "The Legend of Legacy" (レジェンド オブ レガシ):
7 screens, "The Legend of Legacy", via nintendoeverything.com.
Schwerpunkt liegt auf den Kämpfen. War das erste Mal online drüben bei der geschätzten Famitsu zu sehen.
Eine komplett neue IP von Furyu. Wer sich so ein bisschen an Square Enix oder Level 5 erinnert fühlt, ist hier kein Zufall: Mehrere ehemalige Mitarbeiter von dort arbeiten an dem 3DS-RPG.
Erscheint am 22. Januar. Bisher keine Daten für den Westen, leider.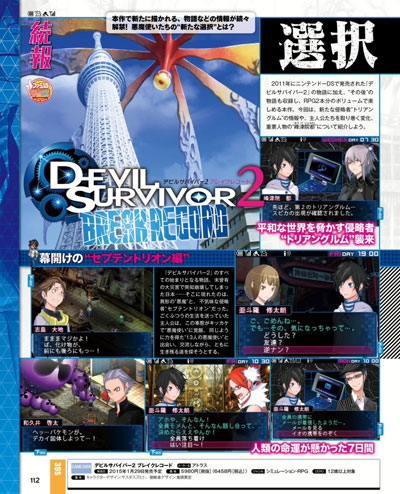 Ist ein Port, klar. Aber immerhin "Shin Megami Tensei". Und von Atlus, die es um ein Haar nicht mehr gegeben hätte. Insofern supporten wir das gerne.
"Devil Survivor 2: Break Record" (デビルサバイバー2 ブレイクレコード), die ersten Scans:
6 scans, "Devil Survivor 2: Break Record", via nintendoeverything.com.
Beginnt auf der Seite ab Scan Nummer 3.
Erscheint Ende Januar in Japan. Rechnen wir mit dem Vorgänger, dürfte es 7 Monate für die NTSC- und 15 Monate für die PAL-Version dauern. Ist also noch ein Weilchen.

Massiv:
Wir hatten ja bereits über "Project HON" berichtet und wie pornös wir das Mecha-Spektakel von NCSoft bereits jetzt schon finden.
Aber was hier abgeht: Das wird uns tatsächlich als Trailer verkauft, in Wahrheit sind das 25 Minuten totales Video-Spektakel!
Verdammt, da haben sich die Südkoreaner nicht lumpen lassen.
Gebießt es! Ist nämlich alles andere als sicher, dass wir Westler das kriegen. -.-