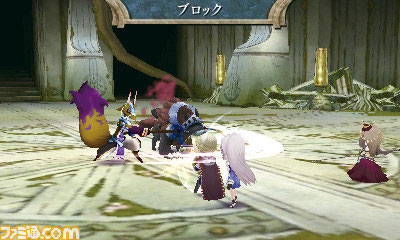 Scans hatten wir bereits hier, ebenfalls einen Trailer.
Na dann machen wir doch heute einen kurzen Grafiken-Beitrag zum sympathischen "The Legend of Legacy" (レジェンド オブ レガシ):
7 screens, "The Legend of Legacy", via nintendoeverything.com.
Schwerpunkt liegt auf den Kämpfen. War das erste Mal online drüben bei der geschätzten Famitsu zu sehen.
Eine komplett neue IP von Furyu. Wer sich so ein bisschen an Square Enix oder Level 5 erinnert fühlt, ist hier kein Zufall: Mehrere ehemalige Mitarbeiter von dort arbeiten an dem 3DS-RPG.
Erscheint am 22. Januar. Bisher keine Daten für den Westen, leider.
---
.: Social Bookmarks :.