Frohes neues Jahr 2017!
Es ist schon eine Weile her, doch mittlerweile postet hier niemand mehr etwas. Als Hauptautor und Maintainer finde ich mit meinen 35 Lenzen keine Zeit mehr, das Hobby Videogames trat mittlerweile, wohl natürlicherweise, mehr in den Hintergrund.
Es hat riesen Spaß gemacht und wir danken euch für euer Interesse und die gute Zeit!
Das Projekt zockerseele.com steht daher zum Verkauf!
Das Startgebot wird bei 5.000€ liegen, Sofort-Kauf bei 7.500€. Klingt für mich fair für ein 12 Jahre gereiftes Web-Projekt mit 5300+ Beiträgen und fast 2 Millionen Besuchern. Hier, was man dafür kriegt: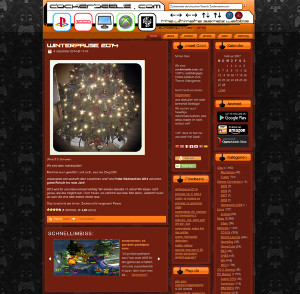 1) 3 URLs: zockerseele.com, zockerseele.net und zockerseele.de
2) Layout, Design, Grafiken, etc. inklusive
3) 5300+ (deutschsprachige) Beiträge zu so ziemlich jedem Videospiel-Thema, das es gibt
4) bis heute 1,86 Millionen Besucher und…
5) …mehr als 1,4 Milliarden Page-Views
6) derzeit 200-300 Besucher pro Tag und…
7) …280 Feed-Abonnenten
8) Seiten-Statistiken mit Datenbanken inklusive
9) Gesamtgröße aller Dateien: ca. 2,16GB
Seht es als Experiment. Zweitens hat niemand vom Team mehr Interesse oder die Zeit das hier weiterzuführen. Drittens: mit AETHYX MEDIAE will ich mich mehr der Android-Welt widmen. Die Erlöse des Verkaufs von zockerseele.com fließen direkt in den Verlag und die App-Entwicklung bzw. das Marketing dazu.
Bei Interesse, einfach kurz mailen: info@zockerseele.com. Verkauft ist das Projekt beim ersten ehrlich gemeinten Gebot von 7500€ 5000€.
Dieses Angebot geht ab heute durch unsere üblichen Kanäle. Sollte sich in wenigen Wochen kein Käufer gefunden haben, wird zockerseele.com im Internet versteigert mit dem oben angegebenen Startgebot.
Hat Spaß gemacht! Und 12 Jahre im Web ist eine extrem lange Zeit. Auf neuen Wegen, macht es gut, zockerseele.com!
[Update, 01.04.17]
Die Auktion ist live und es kann mitgeboten werden: zockerseele.com, Web-Projekt-Auktion auf ebay. Schnell zuschlagen! Viel Spaß beim Bieten! 😀
The auction is now live: zockerseele.com, web project auction, via ebay. Act fast! Happy bidding! 😀
[Update II, Juni 2017]
Da sich über die Auktionen keine Käufer gefunden haben wird das Projekt nicht mehr zur Versteigerung angeboten. Falls jemand wirklich Interesse hat an einer Übernahme: alles zusammen kann weiterhin für 5000€ erworben werden. Dazu einfach eine Email senden an info@zockerseele.com!
It wasn't possible to find buyers via auctioning. We'll still sell the whole project for 5.000€, though. Please just send us an Email if you're really interested: info@zockerseele.com. Thanks a bunch!