Artikel-Schlagworte: "beast"


Hatten wir auch noch nie hier: "Karous: The Beast Of Re: Eden" ( 難攻不落三国伝 ~蜀と時の銅雀~).
KLON will das für den 3DS herausbringen. Informationen sind Mangelware. Was wir zeigen können sind Eindrücke von den Dialogen, eine Handvoll Kämpfe und das Interface, mit dem ihr als Spieler interagieren werdet:
11 screens, "Karous: The Beast Of Re: Eden", via senpaigamer.com.
Wie immer gibt die Grafik der Konsole nicht viel her. Das ist schade. Was wir sehen können sind Anzeichen eines Taktik-Rollenspiel-Teils. Der Rest erinnert ein wenig vom Stil her an "Etrian Odyssey".
Erscheint für japanische Zockerseelen am 28. November. Wir berichten weiter Neues, sobald uns das vorliegt.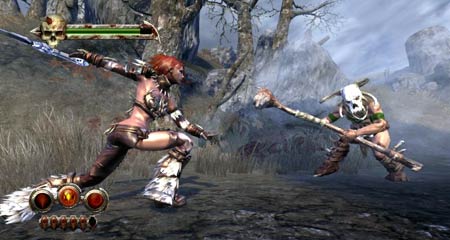 der hack'n'slash-sidescroller "golden axe" hat seine wurzeln zurück bis ins jahr 1989. 2008, noch diesen monat, kommt eine neuauflage für die ps3 und die 360. checkt die screens:
13 bilder, "golden axe", via destructoid.
tyris flare, die old-school-kampf-amazone, feiert hier ihr comeback. es gibt auch ganz geringe anzeichen von nacktheit und, wie der name schon sagt, es geht hauptsächlich ums reiten. den ersten trailer hält sega auch bereit: http://sega.com/games/?g=425.