Artikel-Schlagworte: "brandish"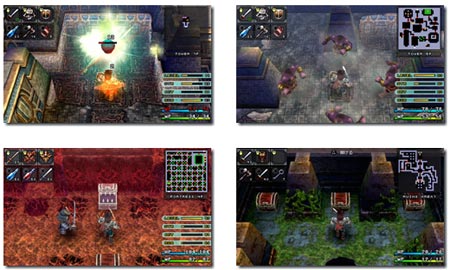 wir fanden erneut eine screenshot-bonanza zu "brandish – the dark revenant":
36 screens, "brandish – the dark revenant", via siliconera.com.
bei diesem dungeon-crawler muss man sich wieder aus antiken ruinen rauswursteln. ab und zu bekommt man unterstützung von einer figur namens dela, aber sonst ist man da drin ganz allein mit ein paar händlern, die allerlei zeugs anbieten. das remake erscheint in japan am 19. märz.


der dungeon-crawler "brandish" kam 1995 für das snes raus und falcom arbeitet derzeit an einem remake für die psp. die ersten screens sehen gut aus, erinnert ein wenig an die guten alten diablo-zeiten:
23 screenies, "brandish", via dengeki.com.
die grafik wird sich schliesslich komplett in 3d abspielen, von der story her ändert sich jedoch wenig. am 19. märz gibts den release in japan und es hängt von atlus ab, ob die das danach auch anderen weltregionen zur verfügung stellen.