Artikel-Schlagworte: "cataclysm"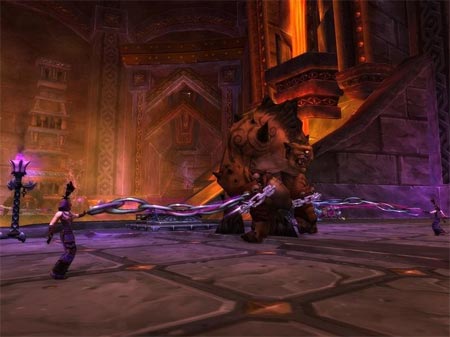 die dritte expansion zu "world of warcraft" steht an. das teil trägt den titel "cataclysm" und deathwing der zerstörer kommt zurück. ja, der war mal präsent in "warcraft II", aber bisher nicht aus seinem winterschlaf erwacht. seine rückkehr durch die dimensionen azeroths bringt naturkatastrophen mit sich, daher der untertitel.
anyway, wow-fans, aufgepasst:
18 screens, "world of warcraft: cataclysm", via gamekyo.com.
natürlich wird es auch neue dörfer und quests geben, das leveling darf darüberhinaus bis 85 fortgesetzt werden. insgesamt kommen neun neue dungeons, zwei neue rassen (goblins und worgen), ein neuer second skill (archäologie) und natürlich ist das ganze nur mit dem komplett überarbeiteten battle.net zockbar.
release ist "irgendwann 2010".