Artikel-Schlagworte: "chains"

[via]
da in der kleinen psp die selbe technik wie in der grossen schwarzen schwester steckt, kann ich visuell kaum unterschiede zum zweiten teil mit killer-kratos feststellen. was man hier sieht, ist die vermöblung diverser monster gleichzeitig, als beispiel für das combo-system. immer noch keine falten gekriegt, der gute.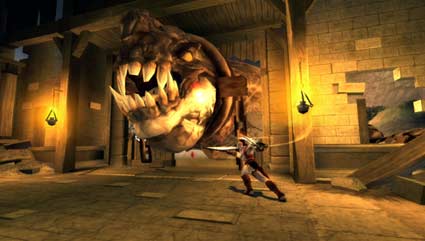 so wie sich die entwickler von "god of war" jedesmal reinhängen, besteht kein zweifel, dass "god of war – chains of olympus" auf der psp einschlagen wird. die ersten, die es bereits anspielen durften, bestätigen diese these. joystiq schenkt euch weitere 18 screens:
18 mal neues zu "chains of olympus".
nicht genug!? bitte: noch mehr shots und hier ein trailer. im november kommt es in den usa raus, europa wird noch angekündigt.

okay, es wird jetzt tatsächlich konkret: god of war feiert bald seinen einstand auf der psp! der derzeitige titel lautet: "chains of olympus". es gibt auch seit neuestem einen kurzen trailer, quasi als beweis:
bis es soweit ist solltet ihr bei interesse öfter unter der offiziellen site vorbeischauen. die befindet sich derzeit noch im aufbau, sollte aber schon bald online sein. [via] schade: es läuft auch eine aktion, bei der man sich bewerben kann und vielleicht eine psp-demo nach hause geschickt bekommt. allerdings gilt das nur für den nordamerikanischen raum.