Artikel-Schlagworte: "company"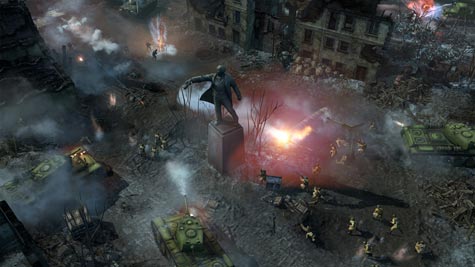 Manche sagen, das Echtzeit-Strategie-Genre sei tot. Doch das hält namhafte Hersteller auch nicht davon ab, weitere Spiele zu veröffentlichen. Und eigentlich ist das auch in Ordnung.
Mit "Company of Heroes 2" hat Sega einen Schritt in eine Richtung gemacht, die nicht risikoarm ist: Erst im Januar wurde die Franchise von THQ übernommen, die ja inzwischen untergegangen sind.
Im Zuge dessen hat man sich natürlich auch die Essence 3.0-Engine einverleibt. Und was die leisten kann, das schauen wir uns jetzt mal an:
18 screens, "Company of Heroes 2", via allgamesbeta.com.
Das sieht alles schon gut aus. Die Frage ist, ob die Welt ein weiteres großes Zweiter-Weltkrieg-Spiel braucht.
Das Haupt-Schlachtfeld befindet sich diesmal an der Ostfront, die Sowjets sind als Armee dabei und für Nostalgiker gibt es auch "Unternehmen Barbarossa" oder die Schlacht um Berlin. Wer's mag.
Mein Opa hätte sicher seine Freude daran gehabt, würde er noch leben. Alle anderen Opas dürfen ab dem 25. Juni zugreifen, dann nämlich erscheint der Titel im Euroland.