Artikel-Schlagworte: "demos"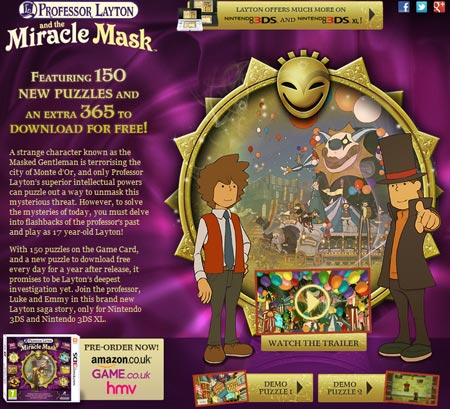 Die offizielle Hub-Site zum neuen "Professor Layton" ist nun offiziell geöffnet. Ihr erreicht sie unter folgender Adresse: Professor Layton and the Miracle Mask, Hub-Website, via nintendo.co.uk.
Vorteile:
* Zwei spielbare Demos!
* Hintergründe zum Spiel
* Die Möglichkeit, nach Erwerb des Spiels ein Jahr lang jeden Tag ein neues Rätsel herunterzuladen
* Trailer
Einziger Nachteil:
* Die Website ist leider nur in englischer Sprache verfügbar
Surft mal vorbei, ist gar nicht schlecht gemacht.