Artikel-Schlagworte: "from"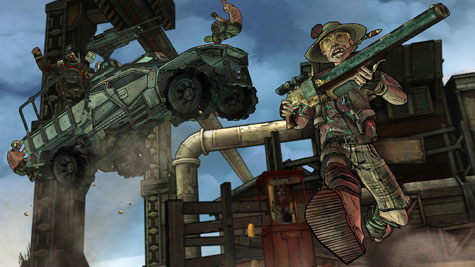 Zurück zu Adventure-Wurzeln und Neues von einer Ca$h-Kuh: Mit "Tales from the Borderlands" startet Telltale bzw. Gearbox ab Mitte des Jahres eine neue Point'N'Click-Serie.
Wie auch bei "The Walking Dead" oder ähnlichen Vertretern werden eure Entscheidungen Einfluss auf zukünftige Ausgänge anderer Episoden haben. Shooter-Elemente kommen nur untergeordnet darin vor, macht ja aber auch seinen Reiz speziell bei dieser Anarcho-Serie aus.
Die allerersten Grafiken sind nun öffentlich, bitte hier entlang:
5 screens, "Tales from the Borderlands", via gematsu.com.
Wer "Borderlands 2" durch hat, der sollte definitiv ebenfalls einen Blick riskieren, denn die Geschichte wird hier drin konsequent weitererzählt.
Plattformen stehen noch nicht fest, können aber aus dem Vorgänger locker antizipiert werden.

Das hier macht bestimmt den Doktor glücklich:
Wenngleich der die Webserie "Tales from Dunwall" bestimmt schon kennt. Immerhin schreibt er für das "Dishonored"-Game ein eigenes Blog.
Jedenfalls, diese zwei Minuten sind düster. Und das mit der Maske frisst sich in den Schädel. Aber die Präsentation ist top.
Das wahrscheinlich krasseste Assassinen-Videospiel erscheint am 12. Oktober.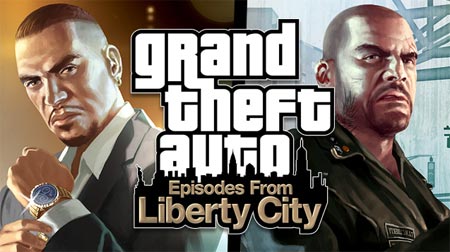 gute nachrichten für alle "grand theft auto"-fans: die zwei exklusiven 360-erweiterungs-episoden "the lost and damned" und "the ballad of gay tony" werden ab dem 30. märz sowohl für die ps3, als auch den pc erhältlich sein!
der preis: 20$/13€ für die download-version beim playstation network und games for windows live. wer möchte, der kann sich auch eine standalone-dvd kaufen für 40$/26€.
schade, dass das so lange gedauert hat. immerhin ist "gta IV" jetzt auch schon zwei jahre alt. doch ich reaktiviere das gaming-erlebnis gerne, da bin ich einfach ein zu grosser fan.

ola, suckaz, i know you kind of missed me, right? well, as you can see i just managed to plugin this motherfucking camera from my ps2 into this bullshit-device they call computer, you know!? and as you might already know, or you don't, you know i was never interested in this kind of shit, but you can get some drivers for this thing, cause it's built by logitech. so i was able to make this nice photo from myself and, to be serious: did you ever see kind of such an elegant motherfucker as me!? yeah, man, gotcha. at this time, i'm on vacation. as many weeks before, nothing changed. well, that is actually the price you get when the whole motherfucking town they call vice city belongs to mr. vercetti, got it!? candy suxxx is "working", but i know there are children out there so i wasn't able to send you the other part of the picture. well, what did you think, stupid idiot that i would disappear forever!? haha! the next time you see me i'm rumbling with your mother and if candy had an empty mouth right now, she could tell ya, what the hell that means. well, i have to quit now, cause my new game is coming soon and i have some appearances in several shitty talkshows. it's just bizness, just promotion and don't let them tell ya that my new game won't have me, myself and i in the leading role, that is all bullshit, they just changed my name for licensing reasons. well, fuck you all, i'm out.
candy! you fucking bitch, c'mon, i always tell ya swallow this shit! fuck, bitch, my fucking expensive carpet! damn.