Artikel-Schlagworte: "gamepark"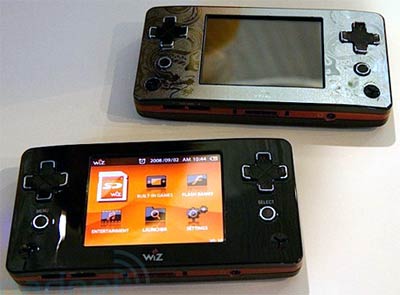 konkurrenz belebt das geschäft, deshalb begrüsse ich generell bemühungen auf dem handheld-markt, der zum grossteil lediglich von zwei geräten dominiert wird. technisch gesehen werden diese produkte immer besser, kommen ran an minimalste pc-leistungen und sind auch handlich genug, um überall hin mitgenommen zu werden.
der wiz wurde auf der diesjährigen ifa vorgestellt, dort findet ihr noch mehr bilder:
gamepark gp2x wiz, 13 bilder des geräts in aktion.
wiz-spezifikationen:
– emulator für NES, SNES Genesis
– spielt MPEG4, XVID, DIVX and MP3, OGG, WAV ab The WIZ features a
– 2.8-inch QVGA OLED
– ARM9 533 MHz processor with
– 64MB of RAM
– calculator, planner, alarm, world Time, memo pad, and voice recorder
– 12 vorinstallierte spiele
ein netter nebeneffekt: linux kommt hierbei immer mehr in mode, was sich am ende auch auf die pc-distributionen positiv auswirken könnte.
die 180$ könnt ihr jedoch erst im november investieren, bis dahin verschiebt sich nämlich der release, weil es noch probleme mit dem steuer-pad gibt.