Artikel-Schlagworte: "granado"

leude, leude, leude, macht platz auf eurer festplatte! die koreaner kommen und sie bringen ihr bestes, schönstes und mit preisen überhäuftes online-rollenspiel "granado espada" mit: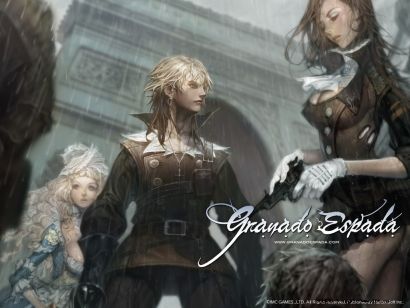 "granado espada" ist eine mischung aus geschichte und fantasy. es handelt von der europäischen entdeckung der neuen welt. diesen sommer wird es soweit sein, der titel vorraussichtlich hierzulande: "sword of the new world".
desweiteren wird es ein einzigartiges kampfsystem geben, bei dem ihr drei(!) charaktere gleichzeitig steuert: einen kontrolliert ihr und die anderen zwei schützen euch, im nu ist der charakter geswitcht. charakter-tausch mit anderen zockern ist ebenso möglich. die story wird ebenfalls angepasst werden.
wenn ihr nach "granado espada" bei bilder-suchmaschinen sucht werdet ihr ungefähr erkennen können, was auf euch zu kommt. gut möglich, dass ich mich in diese welt stürzen werde, bisher gibt es nur eine offizielle pressemitteilung, aber ihr werdet auf dem laufenden gehalten! stay tuned…
hier ein link zu einer deutschen fan-site: http://mitglied.lycos.de/ssjpredator/ge/index.php.
noch mehr infos: