Artikel-Schlagworte: "jehuty"

Meine neueste Errungenschaft: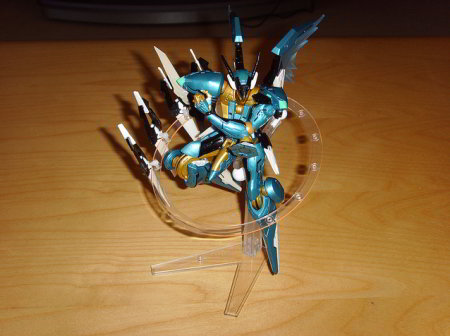 Konami hat erst letzten November eine neue Figuren-Serie zu "Zone of the Enders" herausgebracht. Dazu gehört auch dieser Jehuty Anubis 111-Mech von Revoltech, der mit allerlei Zubehör kommt und dazu voll beweglich ist.
Es ist erst meine zweite Kotobukiya-Figur überhaupt. Nach Motoko Aramaki, die ich euch im Dezember 2007 vorgestellt habe, dachte ich, es wäre mal wieder an der Zeit.
Das Zusammenbauen war schwerer als ich gedacht hätte. Die Glieder sind oftmals sehr klein und die Gelenke anzubringen war der Horror. Doch, wie man sieht, es hat letztendlich funktioniert! 🙂
Ihr könnt noch mehr Schnappschüsse in meinem flickr-Album finden: Jehuty Anubis 111, Unpackaging.
Ich habe die Figur über ebay bestellt, sie kam direkt aus Hongkong und hat 36€ gekostet. Da war der Versand glücklicherweise schon mit drin.
In vielen Shops im Web ist diese Jehuty-Version bereits ausverkauft. Amazon zum Beispiel verkauft die Figur auch, will aber 126€ dafür. Günstiger bekommt man den Mecha über diverse Shops in Asien, wo oftmals auch weitere Figuren der Serie angeboten werden. Die Preise reichen dann von 40€ bis 60€.
Kreiert hat die Figur Katsuhisa Yamaguchi. Hersteller ist Kaiyodo.