Artikel-Schlagworte: "keroro"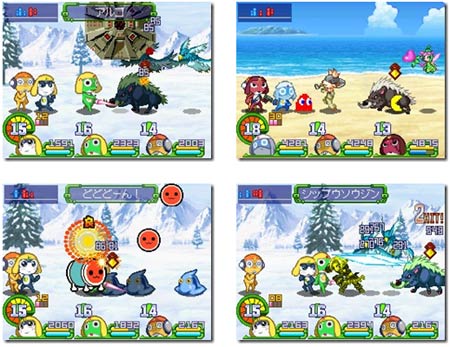 sgt. frog aka keroro kommt auf den nds. darüber haben wir bereits im november berichtet, doch wenn ich mich recht erinnere stand da der titel noch nicht fest. das game trägt den namen "Keroro RPG: the knight, warrior, and legendary pirate".
viele viele namco-charaktere werden hier drin ihre cameos feiern: so sind pacman und haseo (aus .hack//gu) dabei, sowie für die nostalgiker dig dug, valkyrie und wonder momo.
witziger geht es wahrscheinlich nicht auf dem nds, das bestätigt auch die zweite grafik-bonanza:
9 screens, "keroro rpg", via siliconera.com.
wichtige information für die import-füchse: der 4. märz erscheint das frosch-rollenspiel-abenteuer in nippon.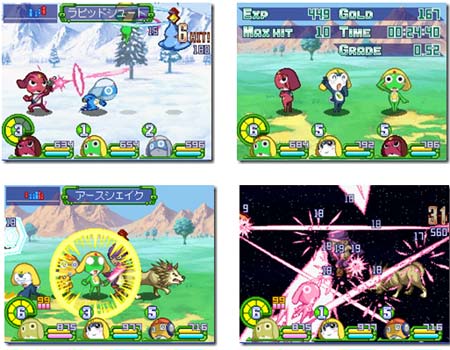 für 2010 bekommt sgt. frosch seinen videospiel-auftritt mit "keroro rpg". in deutschland wurde der comedy-anime auf cartoon network gesendet, ist aber schon ein paar jährchen her.
keroro, also der haupt-figur-frosch, kann sich dann in den verschiedenen welten als ritter, krieger oder pirat ausgeben. das wird ein lustiges unterfangen, schauts euch an:
31 screens, "keroro rpg", via siliconera.com.
der frosch ist ziemlich erfolgreich, eine art japanischer kermit, nur viel lustiger und mit mehr waffen und so. die hintergründe gibt es in deutscher sprache bei http://de.wikipedia.org/wiki/Keroro_Gunso.