Artikel-Schlagworte: "kirche"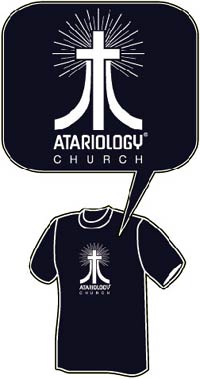 was es nicht alles gibt… schonmal was von der atariology kirche gehört? nein? dann lest euch mal deren grundsätze durch:
1. ALL OF REALITY CAN BE EXPLAINED IF ONE PERCEIVES OF LIFE AS A VIDEO-GAME OR A SIMULATION OF THIS LIFE. (realität ist lediglich ein videspiel oder eine lebenssimulation.)
2. IN THE FUTURE IT WILL BE POSSIBLE TO BUILD A PERFECT SIMULATION OF THIS LIFE. (in der zukunft wird es möglich sein, eine perfekte simulation dieses lebens zu erschaffen.)
3. THE BOOK, HOW ATARIOLOGY BECAME THE DOMINANT RELIGION, IS SCRIPTURE (das heilige buch für diese atari-religion heisst: "wie atariologie die bestimmende religion wurde".
willkommen in der matrix.
nee, ist natürlich alles nicht ganz so ernst gemeint. atari-gründer bushnell wird es jedoch freuen, denn er ist ja jetzt gott.
wer sich durch die seite klickt, atariology.com, findet noch zehn gründe, warum das leben ein videogame sein könnte, die prophezeiung, dass man in naher zukunft lebenssimulationen erschaffen könnte, sowie das passende t-shirt (siehe oben), für alle nachwuchsjünger. na dann.