Artikel-Schlagworte: "klonoa"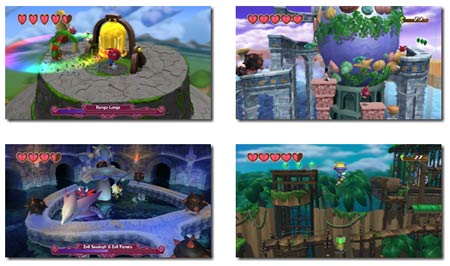 "klonoa – door to phantomile" ist der ultimative beweis dafür, dass remakes alter klassiker für die wii auch brutalst abgehen können. das spiel sieht sehr gut aus und den bewegten bildern zu urteilen spielt es sich auch so. hier noch weitere screens:
14 mal "klonoa door to phantomile", via siliconera.com.
am 22. mai kommt es in europa heraus.
die entwickler selbst sagen, dass sie endlich das spiel machen konnten, was ihnen vorschwebte. das original ist inzwischen 10 und erschien einst für die ps1.


eigentlich war "klonoa – door to phantomile" ein spiel für die ps1, doch im moment befindet sich eine überarbeitete variante für die wii in der entwicklung. grafisch hat sich einiges getan, checkt aktuelle screenies:
35 screens, "klonoa – door to phantomile", via watch.impress.co.jp.
in japan kommt das remake am 4. dezember und dürfte einschlagen, denn bereits die original-version hat super kritiken einheimsen können.
der link hat auch eine kleine sektion, die direkt die grafiken der ps1 der wii gegenüberstellt.