Artikel-Schlagworte: "metatron"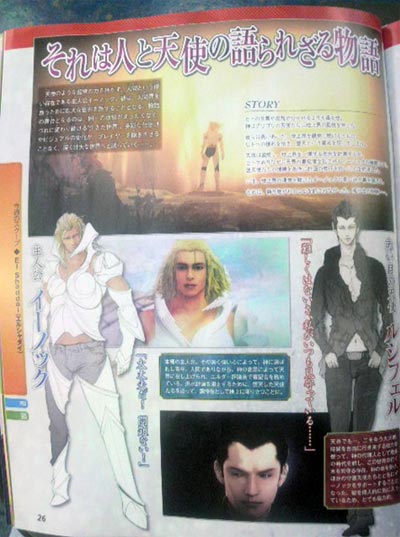 sawaki takeyasu, der monster-designer von "devil may cry", arbeitet als direktor an "el shaddai ascension of the metatron". in dieser woche hat die famitsu eine kleine vorschau gemacht und die hauptcharaktere des spiels vorgestellt:
2 scans, "el shaddai ascension of the metatron", via siliconera.com.
der typ in weiss heisst enoch, die hauptfigur. er wurde von den göttern auserwählt ein held zu sein. lucifer (in schwarz mit roten augen) ist dagegen der böse und wacht über das schicksal der welt. da sind konflikte natürlich vorprogrammiert.
"el shaddai" wird mit wenig knöpfen gezockt. die gegner verfügen auch nicht über eine lebensanzeige, wie man es von anderen action-titeln kennt. sie verlieren ihre rüstung, wenn man sie kritisch getroffen hat. takeyasu will so die steuerung intuitiv machen, dafür wirft er unnötige komplexität über bord.
entwickelt wird das game von ignition und erscheinen soll es noch 2010 für die ps3 und 360.
ürbigens: el shaddai ist ein judäischer name für gott. übersetzt bedeutet es "gott, der allmächtige".