Artikel-Schlagworte: "neuzeit"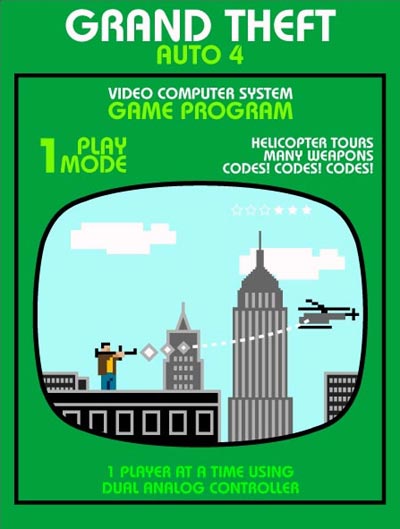 yeeha, das ist ziemlich lässig: vielleicht erinnert sich noch einer an die klassischen atari-boxcover aus den 80ern? ja!? sehr gut! die clique drüben bei minusworld hat nämlich heutige blockbuster-spiele-cover umgestaltet, oben z.b. seht ihr die ausgabe für "gta IV".
insgesamt gibt es 9 solcher artwork-goodies, unbedingt vorbeisurfen:
http://the-minusworld.com/2008/09/16/atari-modern-classics/.
die anderen acht bestehen aus "super smash bros. brawl", "call of duty 4", "bioshock", "portal", "no more heroes", "halo 3", "god of war 3" und "resident evil 5". nice!