Artikel-Schlagworte: "nonono!"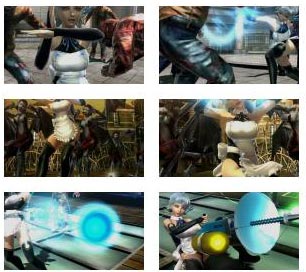 "OneeChanbara" war schon immer sehr sexy, daran kann es nie gelegen haben, dass die Kritiker es abschlachteten, ähnlich effektiv wie mit den Katanas des Spiels.
Doch die Entwickler von Tamsoft sind nach wie vor unerschrocken: Mit "OneeChanbara Z ~ Kagura ~ With NoNoNo!" (お姉チャンバラZ ~カグラ~ With NoNoNo!) erscheint tatsächlich noch ein Spiel der Hauptlinie. Diesmal für die PS3.
Die Grafiken dazu sind, wie es sich für ein echtes "OneeChanbara" gehört, lässig sexy bis absolut lächerlich:
29 screens, "OneeChanbara Z ~ Kagura ~ With NoNoNo!", via gematsu.com.
Um was es geht? Egal. Die letzten zwei Games, ab 2011, hatten nicht mal eigene Wikipedia-Einträge.
Den Fans kann das auch noch wurscht sein: Seit 2009 gab es kein "Oneechanbara" mehr bei uns. Der Release findet daher auch nur in Japan statt, und zwar am 24. Oktober.