Artikel-Schlagworte: "nostalgia"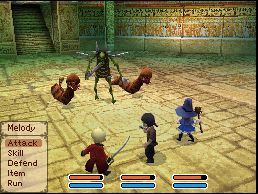 eine vorschau zu "nostalgia" hatten wir bereits in der vergangenheit, damals hiess das spiel noch "winds of nostalgia". das soll uns aber wenig stören, denn so kann man sich den titel besser merken.
das rollenspiel wird entwickelt von matrix software und erscheint ende oktober in den usa. checkt die folgenden (mini-)screens:
21 mal "nostalgia", via joystiq.com.
eine verwandtschaft mit den nds-rollenspielen "final fantasy III" und "final fantasy IV" besteht tatsächlich, denn damals war matrix schon ein wichtiger entwickler für die 3d-angelegenheiten.
freuen dürfen wir uns auf ein steampunk-setting, das im 19. jahrhundert spielt und allerlei geiles artwork mitbringt, was die flugschiffe und dergleichen betrifft. das reisen wird ohnehin ein tragendes element sein.
wir drücken die daumen, dass es sich in nordamerika gut verkauft, damit wir pal-zocker auch in den genuss kommen. aber bitte nicht erst nächstes jahr.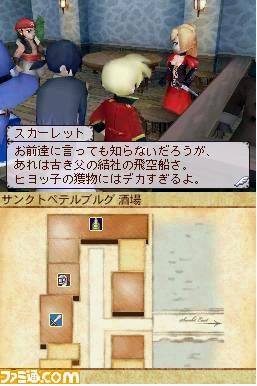 tecmo bringt das nds-rollenspiel "winds of nostalgia", von dem ihr euch bereits jetzt schon ein bild machen könnt:
9 screens, "winds of nostalgia", via famitsu.
das nimmt echt langsam überhand mit den ds-rollenspielen, hoffen wir mal, dass da auch die qualität stimmt. egal, zur story: die hauptfigur ist eine londoner, der in einer romantisch-zukunftsmässigen version des 19. jahrhunderts lebt. neben der üblichen dungeons-erkundung wird es auch luftschiff-schlachten geben. unklar ist, ob das game ausserhalb japans erscheint. klar ist, die macher der remakes von "final fantasy III" und "ffIV" arbeiten an dem spiel. na dann.