Artikel-Schlagworte: "pillars"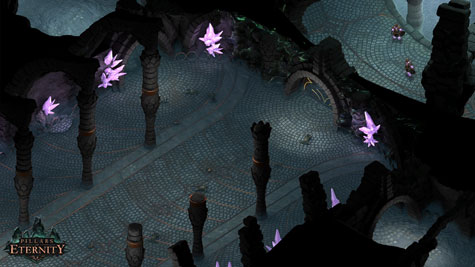 Das mit der Unity-Engine ausgestattete und über Kickstarter finanzierte Fantasy-Rollenspiel "Project Eternity" nennt sich nun ganz offiziell "Pillars of Eternity".
Mit fast vier Millionen Dollar war es das am höchsten gebackupte Projekt auf Kickstarter zu der Zeit, mit den Spenden über PayPal, die danach zugeflossen sind, kam man auf ein stolzes Sümmchen von ~4,16 Millionen.
Wer mit "Baldur's Gate" etwas anzufangen wusste, der wird sich hier schnell zurechtfinden. Es ist zwar überhaupt nicht verwandt mit dieser Serie, aber die geistige Nähe ist unverkennbar und wird von der Fachwelt auch gerne so zitiert.
Mit der Umbenennung des Namens wurden auch nagelneue Grafiken veröffentlicht:
5 screens plus 2 Mal Artwork, "Pillars of Eternity", via allgamesbeta.com.
Ein kurzer Teaser des Gameplay findet man dort ebenso.
Es wird für die drei populärsten Betriebssysteme des Planeten erhältlich sein. Aber erst im Winter 2014.