Artikel-Schlagworte: "premium"

Namco/Bandai hat die Premium-Version zu "Enslaved: Odyssey to the West" offiziell als Download freigegeben.
Diese Version beinhaltet das Original-Spiel, das von Ninja Theory entwickelt wurde. Natürlich. Hinzugekommen ist der DLC "Pigsy's Perfect 10". Außerdem die Charakter-Skins Ninja Monkey, Classic Monkey und Sexy Trip. Wer das Teil auf Steam lädt, bekommt noch so spezifisches Gedöns wie Achievements und "Cloud Saves".
Lohnt in jedem Fall, hier ein paar visuelle Appetizer:
21 screens, "Enslaved: Odyssey to the West Premium", via allgamesbeta.com.
Es handelt sich hier um die erweiterte Version eines definitiven Kult-Spiels aus 2010. Es gibt mindestens zwei Gründe dafür:
Erstens war Alexander Medawar "Alex" Garland der oberste Autor. Diesem Mann verdanken wir die Buchvorlage zum Kultfilm "The Beach" ebenso wie den apokalyptischen Film "28 Days Later". Außerdem hat er zu "DmC" aus 2013 die Story beaufsichtigt.
Und zweitens, tja, hier kommen persönliche Interessen ins Spiel: Nitin Sawhney hat nämlich die Musik dazu beigetragen. Und dieser Mann ist seit 2001 mit ein Grund, weshalb ich immer mal wieder auf Downbeat hängenbleibe.
Release ist heute, man hat diesmal die 360 herausgelassen. Die Kritiker damals haben sich bei 83 von 100 Punkten eingependelt. Schlechter wird diese Ausgabe also auf keinen Fall.

Richtig gut: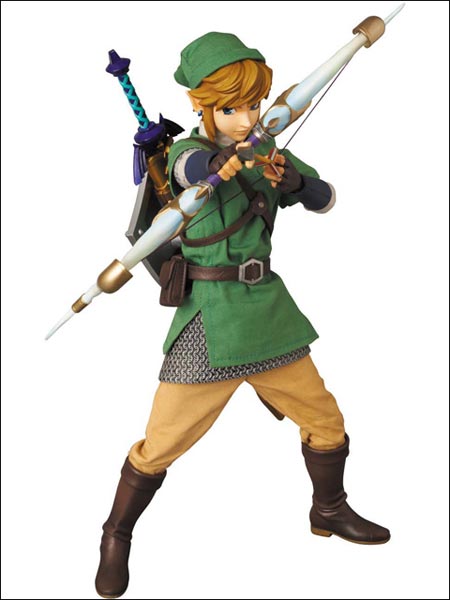 Diese Figur von Medicom des coolen Link wird es ab November geben.
Und es kommen viele Gimmicks mit:
– echte Kleidung
– Meisterschwert, Pfeil und Bogen, Hyrule-Schild
– austauschbares Gesicht
Außerdem ist Link stolze 30cm groß.
Hier gibt's noch mehr Schnappschüsse, 19 insgesamt.
Kann man bis zum 24. März vorbestellen: Ameblo.jp. Preis: ¥20.790/168€. …