Artikel-Schlagworte: "ps2-release?"

merkt euch die details dieser verpackungshülle: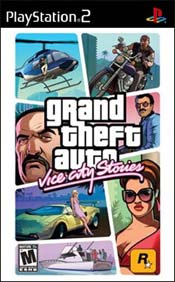 sie haben es also doch noch geschafft und in den europäischen weiten dieser welt darf ab dem 9. märz für 25€ "vice city stories" für die ps2 erstanden werden. in diesem fall haben sich also die positiven gerüchte bewahrheitet, besser so.
die "stories"-reihe ist zeitlich kürzer als die eigentlichen gta-titel zu meistern, die bisher für die ps2 erschienen sind. auch story-technisch ist der film vielleicht 1/4 einer eigentlichen gta-folge lang, kultig und ein muss zu sehen aber in jedem fall. in einem monat also: back to the good old bloody 80s-neon-gangster-schlachten.

eigentlich war von rockstars seite nicht geplant "vice city stories" für die ps2 zu veröffentlichen (wir berichteten). als grund wurde die harte arbeit an "gta 4" angegeben. anscheinend hat sich das blatt doch zugunsten aller ps2-zocker gewendet: beim "esrb"-board wurde ein eintrag gesichtet, welcher auf diese glückliche wendung schliessen lässt (hier der link).
"vice city stories" ist eigentlich die psp-version von "gta: vice city". bereits "liberty stories" wurde auch im nachhinein für die ps2 auf den markt geworfen, mit wahnsinnigem erfolg, obwohl das game eine spielzeit von nur 12-14h aufwies (ein kompromiss wegen den 1,8gb-umd-disks, die die psp nur versteht).
wenn "vice city stories" rauskommt wird es wieder 29€ kosten, wie zuvor "liberty city stories", keine gründe, das game nicht zu kaufen. hoffentlich bleibt es bei diesem move.