Artikel-Schlagworte: "reckoning:"

Gut sieht sie aus, die Spielwelt aus "Kingdoms of Amalur: Reckoning"! Mit Ken Rolston an Bord, dem Lead Designer von "Elder Scrolls III und IV", der hier als Executive Designer agiert, war fast nichts anderes zu erwarten.
Dieses Video geht auf Entdeckungsreise. Regionen werden hier genauso vorgestellt wie Quests, NPCs oder Kämpfe. Curt Schilling, der Gründer von 38 Studios, verspricht uns einen Game-Stil aus einer Mischung von "God of War" und "Oblivion". Na dann!
Bei uns in Europa ist das Action-Rollenspiel am 10. Februar zu haben.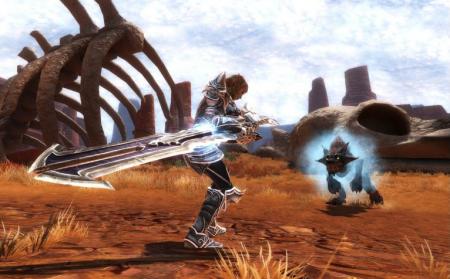 Das Einzelspieler-Rollenspiel "Reckoning: Kingdoms of Amalur" stammt vom selben Designer, der bereits "Elder Scrolls III und IV entworfen hat: Ken Rolston. Entsprechend hoch sind die Erwartungen. Die Fantasy-Welt selbst hingegen wurde von R.A. Salvatore erdacht, einem Fantasy-Autoren.
Sieht schon mal nicht schlecht aus das Ganze:
7 screens, "Reckoning: Kingdoms of Amalur", via joystiq.com.
Entwickelt wird es von den weniger bekannten Studios 38 und Big Huge Games.
Im Spiel selbst wird es fünf Regionen geben und vier spielbare Rassen. Das Gameplay wird verglichen mit dem von "God of War". Release bei uns wird am 10. Februar sein.