Artikel-Schlagworte: "rivals"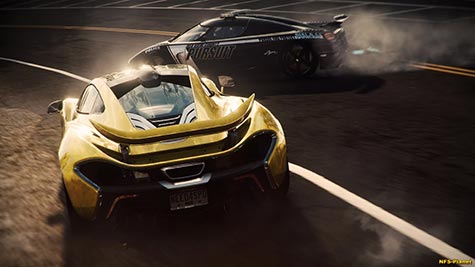 "Need for Speed: Rivals" ist das 20., seit es diese Serie gibt. Geboten wird einem hier eine offene Welt zum Rasen, außerdem wird es der offizielle Nachfolger sein von "NFS: High Stakes" aus dem Jahr 1999.
Das Gameplay ist ähnlich dem aus "Hot Pursuit": Viele exotische Fahrzeuge und jede Menge Hochgeschwindigkeits-Rennen mit der Polizei.
Ein wenig davon ist bereits sichtbar:
6 screens, "Need for Speed: Rivals", via gamekyo.com.
Als Fahrer wird man aus insgesamt 11 Upgrades wählen können, wie etwa EMP oder Schockwellen. Koop-Gameplay und ein dynamischer Wetter-Modus kommen zudem.
Da man im Vorfeld eine Umfrage gemacht hat, welchen Karren man "King of the Streets" werden lassen will, wird der Aston Martin Vanquish sowohl als Cop-Fahrzeug, als auch klassischer Rennwagen enthalten sein.
Release für die Konsolen dieser Generation, sowie den heimischen Rechner wird am 19. November sein. Für die beiden neuen Gerätschaften, die im selben Monat erscheinen, wird es wohl noch was dieses Jahr. Ein genaues Datum existiert hier jedoch bislang nicht.