Artikel-Schlagworte: "shiranui"

alle jahre wieder erscheint eine neue mai shiranui-figur aus dem "king of fighters"-universum. es liegt auf der hand, weshalb wir uns jedesmal wie bolle freuen. der gegenpart zu chun li löhnt euch ca. 140€, ohne versand und ohne zoll versteht sich. alphamax ist dann euer händler, ab märz 2009. noch mehr bilder gefällig: mai shiranui via tomopop.com.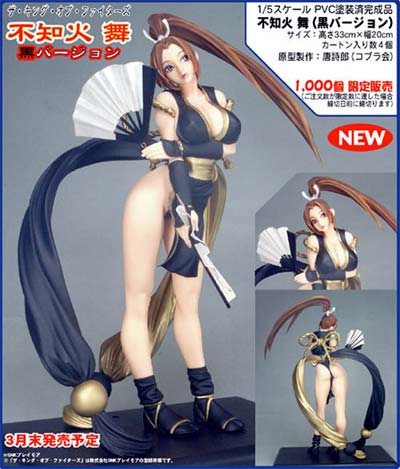 kotobukiya, also diese aufwendigen vinyl-figuren aus dem videogame- und anime-paralleloversum, sind wirklich teuer. diese skulptur von mai shiranui aus der welt von king of fighters zum beispiel kostet 135$/92€. [via] erhältlich ab märz, zu importieren bei: hobbystock.jp.
ich selbst habe daheim noch ein king of fighters XI für die ps2 rumfahren. es ist wohl das beste arcade-2d-fighter-spiel des planeten, gibts bei amazon für 24€.