Artikel-Schlagworte: "short-cuts-film-contest"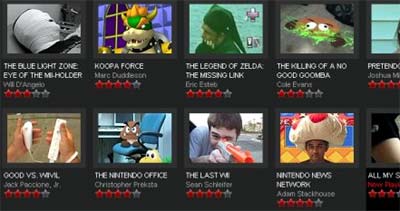 nintendo lud ein und viele kurzfilm-fans haben mitgemacht, beim "short cuts"-film-wettbewerb. inzwischen stehen die 10 finalisten fest, checkt die seite für das video-vergnügen:
http://www.nintendoshortcuts.com/. [via]
ein abriss über die videos im einzelnen:
the blue light zone – eye of the mii-holder – ein spoof der "twilight zone"-episode
koopa force – hier stecken vier jahre arbeit drin und bowser singt
legend of zelda, the missing link – link findet sich in die heutige zeit transferiert und versucht zu überleben
the killing of a no good goomba – "law & order" im pilz-universum
pretendo – mario und link versuchen die prinzessin zu retten.
good vs. wiivil – die wiimotes übernehmen die welt eines spielers
the nintendo office – ein einblick in die heiligen hallen von nintendo
the last wii – zwei freunde eilen zum kaufhaus, um die letzte wii zu kaufen, bevor es ihr nachbar tut
nintendo news network – titel selbsterklärend
all my systems – ein spieler verliebt sich in die wii und lässt alle anderen beziehungen links liegen
[update I, 20.06.07]
also: good vs. wiivil hat den ersten platz geholt. 10.000$, eine wii, ein ds und diverse games plus die vorführung seines videos auf einem festival sind der preis. glückwunsch!