Artikel-Schlagworte: "sigil"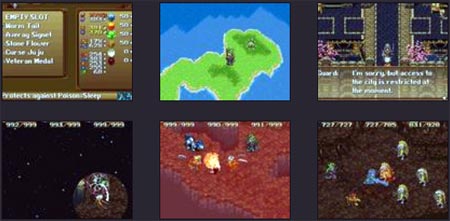 nicht vorenthalten wollen wir euch aktuelles screenshot-material zu "black sigil – blade of the exiled":
18 screens, "black sigil", via gamespot.com.
wahrscheinlich kommt das ganze mitte märz erstmal in nordamerika raus.
eigentlich war das spiel für den gameboy advance gedacht, pläne für die umsetzung existieren seit 2006. natürlich geht es wie in jedem rollenspiel um magie, tragödien und mysteriöse königreiche. es werden acht charaktere zur verfügung stehen und insgesamt 50-60 level, die mit diversen fahr- und flugzeugen bereist werden können.

visuell könnte man meinen, "black sigil – blade of the exiled" sei ein bruder von "chrono trigger". wer es nicht glaubt, hier der link zu massenhaft screenies:
30 screens, "black sigil", via ds-x2.com.
die features im fertigen spiel: 30+ stunden spielspass inkl. side-quests, dunkler und mächtiger story-plot, mehr als 100 magie-skills, mehr als 100 waffen und mehr als 200 verschiedene rüstungsgegenstände.
ein erscheinungstermin steht für noch keine region dieser welt fest, aber von dem, was man bisher sehen kann, könnte es ein hammer-spiel werden. wir sind gespannt und melden uns, wenn es was neues dazu gibt.