Artikel-Schlagworte: "soc-map"

zur info: "soc" steht für das ps2-game "shadow of the colossus", dem nachfolger von "ico".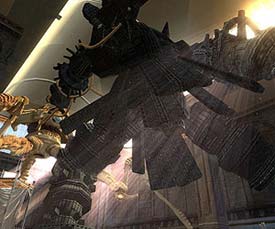 ein mashup der besonderen art präsentiert uns "hl2world.com": irgendjemand hat sich nämlich die mühe gemacht eine exklusive counterstrike-map zu erstellen, die elemente aus "shadow of the colossus" beinhaltet. das wäre nicht unbedingt der rede wert, wäre die karte nicht so verflixt detailiert und augenschmeichelnd. das 160mb-zip-file gibt es dort:
http://riviera.heaven.nexusirc.at/warby/filez/de_wanda.zip.
wer erst sich selbst von bildschirmfotos überzeugen lassen will, der findet massig hier, es handelt sich bei dieser verknüpfung um den eigentlichen eintrag im hl2world-forum. [via]
probiert es aus! es kommt selten vor, dass man ein mashup dieser qualität findet.