Artikel-Schlagworte: "solar-mp4-gameboy-emulator"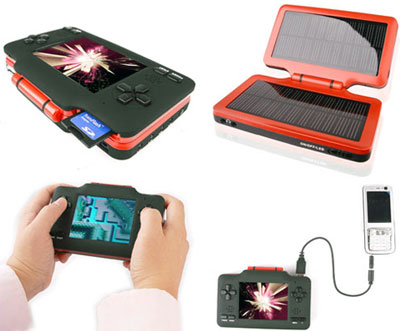 die chinesen schicken diese konkrete kreation ins rennen, die mit der sonne aufgeladen werden kann. die spezifikationen sind folgende:
# Memory: 2GB
# External Memory: SD Card (max 2GB)
# Display: 3.5 Inch TFT LCD 1.6 Million Color
# Video Format: AVI
Conversion formats: MPG 1, 2, 4
Video Resolution: 320×240
FPS (Frames per Second): 25fps
# Music Format: MP3, WMA, AMR, WAV, ADPCM, PCM
Bit rate: 32-320Kbps
# Picture Format: JPEG, BMP, GIF animation photos
# Built in MIC
Record Format: WAV
# Earphone Jack: 2x 3.5mm
# SNR (Signal to Noise Ratio): 90dB
# Output of earphones: 2x 10mW (16Ohm)
# Output of Speaker: 20mW
# Languages: English, Chinese, Thai, Korean, Japanese, German, Portuguese, Italian, French, Dutch, Russian
# USB: 2.0
# System: Windows 98/SE/ME/2000/XP
# Power Source: Built in Rechargeable Li-ion Battery
# Dimension: Unit closed- 94x140x28mm (LxWxD)
# Manufacturer Ref.: KD5HJGM7MF2X

# Solar/ USB/ DC 5V rechargeable
# USB OUT for recharging devices with rechargeable batteries (digital cameras, MP4 players, mobile phones, ect)
Selectable Voltage: 4.5V, 5V, 6.3V, 9V
# Built in high brightness LED flashlight
# FC/NES/GB/GBC emulator
# D-Pad + 4 button control
# Save game slots
# E-Book with reading capacity: will read out loud any TXT file in Chinese or English. Other Romance languages can be read, but the pronunciation will very often be incorrect
# MP3 Music can play while E-Book is being used
# Photo Zoom in + out / move right + left
# ID3 tag + Lyric display
[via]
der preis, der bei runden 84€ liegt, kann sich durchaus sehen lassen. die idee gefällt nintendo vielleicht nicht, aber der eine oder andere yaber auf zockerseele-junkfood wird sich dagegen kaum wehren können. zum produkt: dort bidde.