Artikel-Schlagworte: "sparta"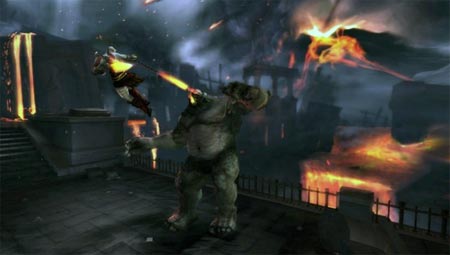 erst seit gestern ist sicher, dass es ein zweites eigenständiges "god of war" für die psp geben wird. es trägt den untertitel "ghost of sparta" und erzählt die geschichte weiter, wie kratos zu seiner unheimlichen macht kam.
ready at dawn und santa monica haben versprochen, dass hier auch drängende fragen zu kratos dunkler vergangenheit beantwortet werden. es ist das selbe team, das uns "chains of olympus" serviert hat.
die ersten vier screens sind bereits online, checkt es aus:
4 screens, "god of war: ghost of sparta", via siliconera.com.
also, damit wir uns richtig verstehen: hier soll nicht nur geklärt werden, was für ein unheil kratos familie widerfuhr. vielmehr finden wir endlich raus, wer ihm diese coolen tattoos gestochen hat und woher diese vielen narben stammen. wir sind gespannt, wie der "ursprüngliche" kratos wohl ausgesehen hat…
release wird noch dieses jahr sein, es ist nur unklar wann.