Artikel-Schlagworte: "spielende"

"games radar" präsentiert 20 games, vielmehr deren abschlussfilm. hier z.b. der von "the elder scrolls: oblivion":
eine spoiler-warnung muss ich wohl nicht mehr explizit rausgeben, hier die liste der spiele:
The Elder Scrolls: Oblivion
Lost Planet
Prey
Halo 2
Kingdom Hearts II
Gears of War
Resistance: Fall of Man
Guitar Hero II
Final Fantasy XII
Metal Gear Solid 3: Snake Eater
God of War
Resident Evil 4
Hitman: Blood Money
Half-Life 2: Episode 1
Sonic the Hedgehog
Pokemon Mystery Dungeon
The Legend of Zelda: Twilight Princess
Dragon Ball Z Budokai Tenkaichi 2
The Godfather
Marvel: Ultimate Alliance
der verweis darf nicht fehlen: es heisst 20 mal spielende bei games radar. [via]
sowas ähnliches gab es bereits hier: im januar machte "cvg" den test und berichtete über die erwähnenswertesten endings.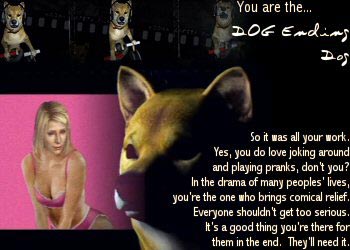 (oben: das "dog-ending" bei silent hill 2)
das cvg-magazine hat sich darüber den kopf zerbrochen, welches videospielende das kurioseste bzw. erwähnenswerteste ist und eine seite mit ihren "gewinnern" erstellt:
cvg: welches spielende ist das beste? [via]
die einzelnen games, die dort aufgelistet sind:
halo, sonic the hedgehog 2, grim fandango, tekken 2, legend of zelda: ocarina of time, silent hill 2, final fantasy 7, half-life.
die liste über die beschissensten spiele-endings darf natürlich auch nicht fehlen:
cvg: welches spieleende ist das behindertste?
hier kommen fable, perfect dark, medal of honor: allied assault, shenmue 2, metal gear solid 2, halo 2, knights of the old republic, super mario bros. vor.